Landscape Design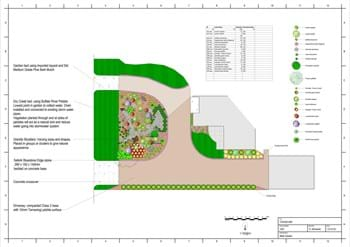 Michel's Landscaping & Garden Design offers a range of design services that can be customised to suit your needs.
At Michel's Landscaping & Garden Design the Design Process starts with an initial site visit and discussion about the design intention, wants & needs of the client to establish the level of design services required. Following this initial visit a quotation is prepared to undertake the services discussed.
---
Design Services available from Michel's Landscaping & Garden Design include:
The Concept Plan is a plan which gives a basic outline of the various elements of the garden and how they might come together to create your landscape. As part of your concept plan you will receive a full colour copy of the concept along with supporting documents outlining the ideas behind the design and some examples of these ideas being used elsewhere.
The Master Plan is an extension of the Concept Plan; it goes into more detail in relation to the materials to be used and the final look of the design.

---
It can also include one or all of the following:
Planting Design/Schedule
The planting design can be completed in conjunction with the concept plan or as a standalone service. There are two levels of planting design/schedule. The first is a planting concept, which will have suggested planting ideas for your landscape. The second is a planting concept and schedule which includes suggested plantings, quantities required and sizing for purchase, this can also include a quotation to supply and plant or supply only.
​
---